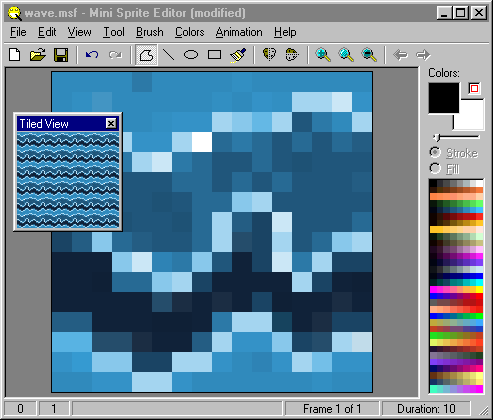 About
Mini Sprite Editor is a small pixel art tool i developed out of mostly boredom (or at least it started that way) in a weekend using Visual Basic 5. Since the first version i added a few extra features and fixed a couple of bugs, but the version you can download from this site is more or less the same.
Features
Lightweight low resolution sprite editing tool
Realtime tiled view for editing tiles (like bricks, etc)
Palette management without forcing 8bit images
Separate colors for left and right buttons
Brushes and quick brush creation with Shift+Drag
Alpha blended and color masked painting
Color key transparency
Shortcut keys optimized for pixel editing (shift, flip, rotate)
Animation support with realtime precise tiled preview
Save and load BMP files for simple static sprites
A simple custom file format for animated sprites
Export to numbered image frames (for use with external tools)
Works on any 32bit and 64bit Windows machine (including Wine)
Download
Click here to download Mini Sprite Editor 1.0.7. This is a zip archive that contains the program's setup and source code inside another archive called source.zip.

Important: please note that the included help file does not mention the quick brush creation with Shift+Drag, this will be fixed in a future version.